Presentation
KartoMNT is a software which aims to provide an heigth data grid (Digital Height Model, or DHM - in french : MNT) in the most easy way as possible.
The actual version comes from a project of the commission informatique du Comité Départemental de Spéléologie des Alpes-Maritimes ( http://cds06.free.fr/commissions/com-info/com-info.html). Les speleologists research this type of software, because they want to see ED models of caves and undergrounds they explore, and the topology of the ground above them.
There are severals softwares existing, which allow viewing ground topology and map images on the surfaces, like Vtopo. These softwares use DHMs. But there is no freeware softawares allowing to create these DHM using single maps. Imaging firms have this type of software, and use it to sell DHMs. The only other way to get a DHM is to note all the altitudes of every points manually. For a square of 1km x 1 km, it represents 10.000 points for a 10m precision DHM.
KartoMNT allows all type of user to make this work automatically.
This software is distributed under GPL licence.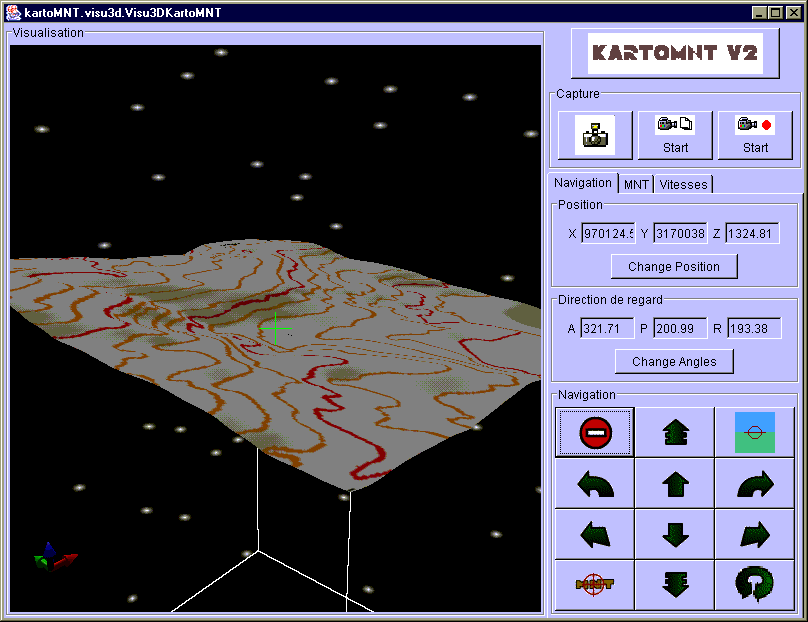 KartoMNT functions
These are the main functions of KartoMNT
Create a DHM from a simple scanned map
In KartoMNT you'll find contour lines detection tools, and utilities to refine, draw, correct the contour lines detected. You'll then have to calibrate your map to get a calibrated DHM.



DHM manipulation
You can change your DHMs properties (size, sample rate, ...), joint various DHM to create a big one, ..
Creating your own DHM classes, you'll be able to work with various types of DHM.



DHM visualization
With his 3D Viewer, KartoMNT allows you to fly on and under the ground you've created, or imported.
Textures, maps, photos, calibrated or not can be applied on your model to make it more realistic.
You can also make snap shots, or short animated movies of the digital 3D models.
Legal Note:
Distribute maps without authorization of their owner is illegal. See IGN site, which commercialize various types of digital maps.
---